ABCO Energy, Inc (OTCPK: ABCE) Tucson, Arizona (October 2, 2019) announced that the ABCO Vice President of Business Development, Mr. Paul d'Hedouville, had attended the "Discovery Global Markets Conference" in Houston Texas. During the two day market development and product introduction show, sponsored by the US Dept of Commerce, Paul had an opportunity to meet with business leaders, energy officers and government officials from more than 80 countries and was able to set up person to person meetings with more than ten individual attendees. ABCO's intention for the attendance is to introduce our newest portable emergency power grid as shown below, and to make sure the attendees recognize ABCO's interest in the global markets.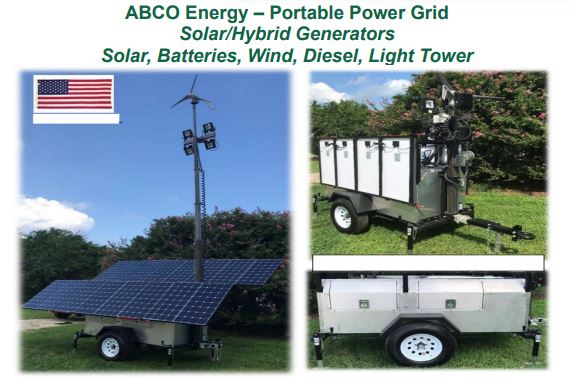 "We are very proud of our production and sales staff for development of the Portable Power Grid with our partners "Progress Solar Solutions" the product developer and licensor," says Charles O'Dowd, President. "We have presented the product to the US Border Patrol offices of all Western states, emergency teams of various cities and FEMA is the past few months. The units can be configured for grids that will power up to five small homes and provide for concession needs in refugee and disaster areas. Rapidly deployed and easily operated, the units can be paired with additional units to meet many needs and long period operations. Selling for $25,000 to $50,000 configurations, the Power Grid is affordable." News release Page 2

About ABCO Energy
ABCO Energy, Inc. is a commercial and residential installer of Photovoltaic (PV) solar systems, LED lighting solutions and HVAC products and services. ABCO Energy, Inc. is a Nevada corporation, which maintains offices located in Tucson and Phoenix, Arizona. ABCO is a fully reporting public company trading under the symbol ABCE. Since its inception in 2008, ABCO Energy has taken great pride in delivering quality solar installations and has a reputation for outstanding customer service. These qualities have allowed us to grow the business primarily through referrals, many of those based on actual customer reviews.
Safe Harbor Statement Note: Certain statements in this news release may contain "forward-looking" information within the meaning of Rule 175 under the Securities Act of 1933 and Rule 3b-5 under the Securities Act of 1934 and are subject to the safe harbor created by those rules. All statements, other than the statements of fact, included in this press release may include forward-looking statements that involve risks and uncertainties. There can be no assurance that such statements will be accurate and actual results and future events could differ materially from those anticipated in such statements. ABCO undertakes no obligation to update forward-looking statements to reflect subsequently occurring events or circumstances or to reflect unanticipated events or developments.
Contact: Terry Taylor Phone 607-220-8989 Or Charles O'Dowd, President at "info@abcoenergy.com"