ABCO Energy, Inc. (OTCPK: "ABCE") Tucson, Arizona (October 9, 2020), the Arizona provider of integrated energy solutions, is pleased to announce the successful sale of a mobile energy efficiency solution for several border patrol remote sites near the Arizona Mexico border for off grid power.
This $189,000 commercial contract consists of 4 mobile power units with requirement for the purchase, delivery and set-up of a hybrid solar power generating system. This system shall consist of four separate generator units able to be connected in a "Daisy-chain" manner to serve as a single power generating system. Three of the units will be solar powered (including a light on one of the units). An additional unit will be a diesel generator which will be utilized for the charging of batteries during extended periods of inclement weather. The picture below is a sample of one of the mobile units.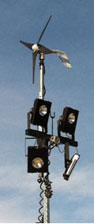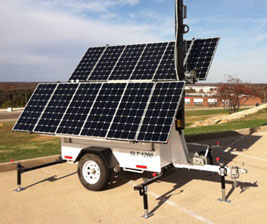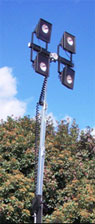 "As a leading energy solutions provider, ABCO is committed to delivering innovative and cost-effective energy performance systems. We work step by step with our customers from start to finish, by providing financing, designing and installation services to improve the properties energy efficiency performance" said Klaus Wyatt the ABCO Solar representative handling the Border Patrol account. "In addition to the project equipment and installation services, the annual maintenance contracts will follow for many years on this project. This contract comes to ABCO in the shutdown period of the coronavirus pandemic, and we are proud to announce that it will help keep our employees working through these difficult times."
About ABCO Energy
ABCO Energy, Inc. is a commercial and residential installer of Photovoltaic (PV) solar systems, LED lighting solutions and HVAC products and services. ABCO Energy, Inc. is a Nevada corporation, which maintains offices located in Tucson and Phoenix, Arizona. ABCO is a fully reporting public company trading under the symbol ABCE. Since its inception in 2008, ABCO Energy has taken great pride in delivering quality solar installations and has a reputation for outstanding customer service. These qualities have allowed us to grow the business primarily through referrals, many of those based on actual customer reviews.
Safe Harbor Statement
Note: Certain statements in this news release may contain "forward-looking" information within the meaning of Rule 175 under the Securities Act of 1933 and Rule 3b-5 under the Securities Act of 1934 and are subject to the safe harbor created by those rules. All statements, other than the statements of fact, included in this press release may include forward-looking statements that involve risks and uncertainties. There can be no assurance that such statements will be accurate and actual results and future events could differ materially from those anticipated in such statements. ABCO undertakes no obligation to update forward-looking statements to reflect subsequently occurring events or circumstances or to reflect unanticipated events or developments.
ABCO Energy, Inc.
info@abcoenergy.com – 520-777-0511 – www.abcoenergy.com
2505 North Alvernon Way, Tucson, AZ 85712 – ROC# 258378 & 323162