ABCO Energy, Inc, (OTC PINK: ABCE) October 31, 2017, Tucson, Arizona, announced today that its operating subsidiary "ABCO Solar, Inc." has won the coveted Southern Arizona Home Builders Association (SAHBA) Home Show award for "The Most Innovative Product" in the mid October home show. ABCO Solar (ABCO) was selected from 12 nominees as presenting "The Most Innovative Product" award for their presentation of the Perfectly Green Corporation's SMART FROG 23 SEER Solar Air Conditioning unit.
SAHBA's biannual home show features businesses involved in all aspects of home building, design and accessories and attended by 20,000 community members. The home show judges were all homebuilding industry participants and "The Most Innovative Product" award is the most prestigious of the awards presented.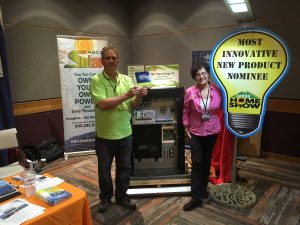 Designed For Reliable On or Off Grid (FROG) applications, the Smart Frog A/C operates on 4 kilowatts of Direct Current electricity generated by solar panels. The 3 or 5 ton units can be operated using grid power, solar power or power from an integrated 7 kilowatt propane or natural gas generator. The electricity sources can be combined for power mixing which can be useful for peak time of use period "peak shaving", powering the air conditioner in times of grid failure as well as household power needs in the absence of grid power.
The integrated solar inverter and gas generator may be purchased separately as component parts if desired. The Smart Frog may use solar that is already in place on the residence. Commercial grade solar Air Conditioners will be available soon.
Safe Harbor Statement
Note: Certain statements in this news release may contain "forward-looking" information within the meaning of Rule 175 under the Securities Act of 1933 and Rule 3b-5 under the Securities Act of 1934 and are subject to the safe harbor created by those rules. All statements, other than the statements of fact, included in this press release may include forward-looking statements that involve risks and uncertainties. There can be no assurance that such statements will be accurate and actual results and future events could differ materially from those anticipated in such statements. ABCO undertakes no obligation to update forward-looking statements to reflect subsequently occurring events or circumstances or to reflect unanticipated events or developments.
CONTACT INFORMATION:
Charles O'Dowd, President
Email: info@abcoenergy.com